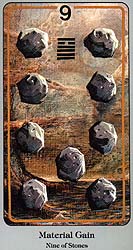 Haindl Tarot
Nine of Stones (Material Gain)
I Ching Hexagram 14 Possession in Great Measure. The pattern of the stones, balanced with the central stone close to the Earth, indicates progress and growth, but not constant. In the background is the sea and part of the roots of a great tree.

The Haindl Tarot weaves a tapestry of haunting beauty from the traditions of Native America, the Holy Grail, the I Ching, Kabbalah and the Norse Runes, and is the deck of choice for mystics and those seeking enlightenment. If you would like your own copy of the Haindl Tarot, you can buy it now!