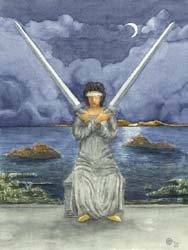 Aquatic Tarot
Two of Swords (Peace)
A hoodwinked female figure balances two swords upon her shoulders.

The Aquatic Tarot is a modern watercolor interpretation of the classic Rider Waite symbolism. It is rapidly becoming one of the most popular decks, due to both its spectacular beauty and its traditional imagery.