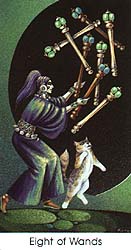 Cat People Tarot
Eight of Wands (Swiftness)
A woman has to move fast in order to juggle her wands and keep them in constant motion without dropping them. When one makes decisions too quickly, on impulse, one often has to perform a balancing act in order to keep the results of such decisions from conflicting. Each wand symbolizes an impulsive decision that one might later regret. The little cat has no such notions; he only wants to play.

The Cat People Tarot paints a picture of faraway lands trod by mystical archetypes and their feline companions. This deck is a perfect tool for dreamers and idealists, and is a great choice for divining the nature of human imagination. If you would like your own copy of the Cat People Tarot, you can buy it now!