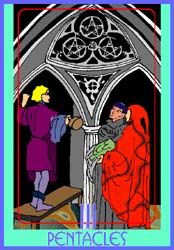 Colman Smith Tarot
Three of Pentacles (Works)
A sculptor at his work in a monastery. Compare the design which illustrates the Eight of Pentacles. The apprentice or amateur therein has received his reward and is now at work in earnest.

The Colman Smith Tarot is a modern reinvention of the classic Rider Waite deck, infusing the original line drawings by Pamela Colman Smith with colors drawn from the psychedelic digital age.