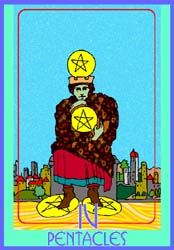 Colman Smith Tarot
Four of Pentacles (Power)
A crowned figure, having a pentacle over his crown, clasps another with hands and arms; two pentacles are under his feet. He holds to that which he has.

The Colman Smith Tarot is a modern reinvention of the classic Rider Waite deck, infusing the original line drawings by Pamela Colman Smith with colors drawn from the psychedelic digital age.