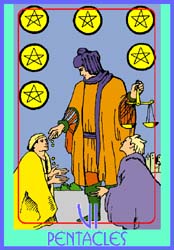 Colman Smith Tarot
Six of Pentacles (Success)
A person in the guise of a merchant weighs money in a pair of scales and distributes it to the needy and distressed. It is a testimony to his own success in life, as well as to his goodness of heart.

The Colman Smith Tarot is a modern reinvention of the classic Rider Waite deck, infusing the original line drawings by Pamela Colman Smith with colors drawn from the psychedelic digital age.