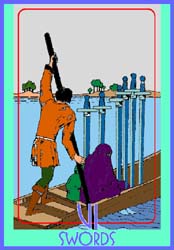 Colman Smith Tarot
Six of Swords (Science)
A ferryman carrying passengers in his punt to the further shore. The course is smooth, and seeing that the freight is light, it may be noted that the work is not beyond his strength.

The Colman Smith Tarot is a modern reinvention of the classic Rider Waite deck, infusing the original line drawings by Pamela Colman Smith with colors drawn from the psychedelic digital age.