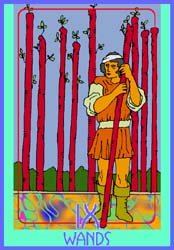 Colman Smith Tarot
Nine of Wands (Strength)
The figure leans upon his staff and has an expectant look, as if awaiting an enemy. Behind are eight other staves--erect, in orderly disposition, like a palisade.

The Colman Smith Tarot is a modern reinvention of the classic Rider Waite deck, infusing the original line drawings by Pamela Colman Smith with colors drawn from the psychedelic digital age.