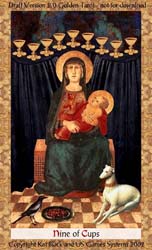 Golden Tarot
Nine of Cups (Happiness)
A smiling madonna and child sit in front of a dark curtain. Nine cups sit on the ledge above them. A white dog, a magpie and bowl of cherries sit at her feet.

The Golden Tarot is a modern celebration of late medieval artwork. This deck is the choice of scholars, for it evokes images of elegance amid barbarism, and the light of virtue in dark times. If you would like your own copy of the Golden Tarot, you can buy it now!