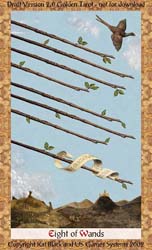 Golden Tarot
Eight of Wands (Swiftness)
Eight wands fly through the sky. One carries a message, and a pheasant flies above them. In the distance are soft, velvet hills with castles both intact and ruined.

The Golden Tarot is a modern celebration of late medieval artwork. This deck is the choice of scholars, for it evokes images of elegance amid barbarism, and the light of virtue in dark times. If you would like your own copy of the Golden Tarot, you can buy it now!