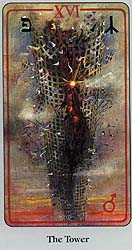 Haindl Tarot
The Tower
The Symbols

Peh, mouth; Yr or Irr, to err; Mars.

The Image

The Tower symbolizes an arrogant technology that constantly desires more and bigger monuments to its conquest of nature. Inside of it is darkness and fire. It is a modern image of the Tower of Babel. The sunrise and blue sky suggest hope.
The Haindl Tarot weaves a tapestry of haunting beauty from the traditions of Native America, the Holy Grail, the I Ching, Kabbalah and the Norse Runes, and is the deck of choice for mystics and those seeking enlightenment. If you would like your own copy of the Haindl Tarot, you can buy it now!