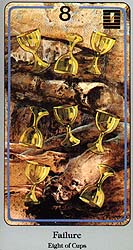 Haindl Tarot
Eight of Cups (Failure)
I Ching Hexagram 41 Decrease. The cups are in confusion, reflecting chaos. Words on the lower right are from Chief Seattle's speech on the injustices done not only to humans but to animals and to Earth herself. Lines of light and flowing water give hope of a hidden joy that cannot be destroyed.

The Haindl Tarot weaves a tapestry of haunting beauty from the traditions of Native America, the Holy Grail, the I Ching, Kabbalah and the Norse Runes, and is the deck of choice for mystics and those seeking enlightenment. If you would like your own copy of the Haindl Tarot, you can buy it now!