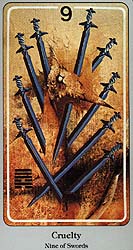 Haindl Tarot
Nine of Swords (Cruelty)
I Ching Hexagram 6 Conflict. A bird like the fantasy peacock of the two of cups is victim of the swords. The picture shows human cruelty. Part of an arm is from a picture of "The Three Graces", and shows the possibility of love and paradise.

The Haindl Tarot weaves a tapestry of haunting beauty from the traditions of Native America, the Holy Grail, the I Ching, Kabbalah and the Norse Runes, and is the deck of choice for mystics and those seeking enlightenment. If you would like your own copy of the Haindl Tarot, you can buy it now!