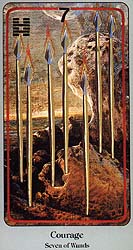 Haindl Tarot
Seven of Wands (Courage)
I Ching Hexagram 40 Liberation. The scene is peaceful, though the sky is cloudy. The spears rise out of holes in the rock, active humanity striving upward. The ball above is the nonmaterial world of the mystic.

The Haindl Tarot weaves a tapestry of haunting beauty from the traditions of Native America, the Holy Grail, the I Ching, Kabbalah and the Norse Runes, and is the deck of choice for mystics and those seeking enlightenment. If you would like your own copy of the Haindl Tarot, you can buy it now!