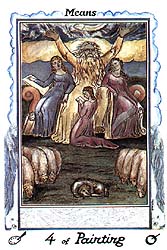 William Blake Tarot
Four of Painting (Means)
The biblical figure of Job, surrounded by his daughters and his prosperity. He is a man of means, relating his life story and his visions. His daughters, holding symbols of the arts, represent his familial and cultural wealth; the sheep at left and right symbolize his material wealth. Although the cloud behind him separates his visions from his earthly state, his hands reach into the ethereal realm and connect him with spiritual energies as well.

The William Blake Tarot explores the mystical vision and artistry of the renowned English painter and poet. Through rich interpretations focused on creative undertakings, it has long been the deck of choice for artists, writers, musicians, and thinkers. For more information about this deck, or to buy your own personal copy, go to www.blaketarot.com.