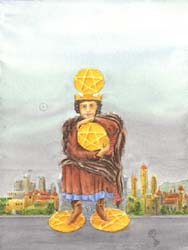 Aquatic Tarot
Four of Pentacles (Power)
A crowned figure, having a pentacle over his crown, clasps another with hands and arms; two pentacles are under his feet. He holds to that which he has.

The Aquatic Tarot is a modern watercolor interpretation of the classic Rider Waite symbolism. It is rapidly becoming one of the most popular decks, due to both its spectacular beauty and its traditional imagery.