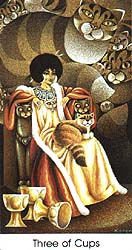 Cat People Tarot
Three of Cups (Abundance)
When a problem is resolved, one can sit back, relax, mull over it and enjoy oneself. A woman wears a loosely draped robe to signify her freedom from concern. The cat on her lap is relaxed, complimenting her mood, but the cats on her chair are sculpted in an alert, upright position, in case new problems arise.

The Cat People Tarot paints a picture of faraway lands trod by mystical archetypes and their feline companions. This deck is a perfect tool for dreamers and idealists, and is a great choice for divining the nature of human imagination. If you would like your own copy of the Cat People Tarot, you can buy it now!