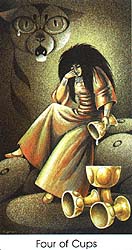 Cat People Tarot
Four of Cups (Luxury)
A middle-aged woman who has had too many disappointments in her life tries to drown her woes with the contents of her cups, which are oversized in proportion to the magnitude of her problems. She has reached the midpoint in her life but doesn't seem to be going anywhere; she has little to show for her past experiences. Two of the cups are overturned and drained dry of hope, but the largest cup remains upright in an attitude of "all is not lost if one keeps trying." The cat expresses her feelings of what might have been.

The Cat People Tarot paints a picture of faraway lands trod by mystical archetypes and their feline companions. This deck is a perfect tool for dreamers and idealists, and is a great choice for divining the nature of human imagination. If you would like your own copy of the Cat People Tarot, you can buy it now!