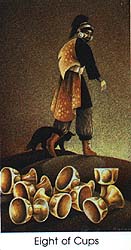 Cat People Tarot
Eight of Cups (Indolence)
A man turns away from his clutter of cups that are empty and in disarray. He has tried many things, all of which have failed. He looks back at the one cup that remains upright, and wonders should he try once again? His companion cat, in the manner of its kind, does not look back. It moves toward the light, hopefully to better things.

The Cat People Tarot paints a picture of faraway lands trod by mystical archetypes and their feline companions. This deck is a perfect tool for dreamers and idealists, and is a great choice for divining the nature of human imagination. If you would like your own copy of the Cat People Tarot, you can buy it now!