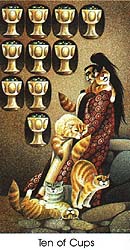 Cat People Tarot
Ten of Cups (Satiety)
Peace and happiness is a purring cat. No other animal can express pleasure and contentment as eloquently as a cat. Despite their love of independence, cats can be very loving animals. Five well-fed and well-loved cats are giving love in return. The cups are arranged in niches, forming a sculptural, architectural pattern in the background. To emphasize the calmness of the scene, they are placed in a stable position, upright, and they are full.

The Cat People Tarot paints a picture of faraway lands trod by mystical archetypes and their feline companions. This deck is a perfect tool for dreamers and idealists, and is a great choice for divining the nature of human imagination. If you would like your own copy of the Cat People Tarot, you can buy it now!