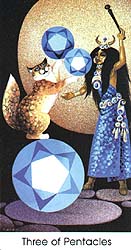 Cat People Tarot
Three of Pentacles (Works)
Only a person of extraordinary skill, patience and perception could master the art of training a cat to perform on command.

The Cat People Tarot paints a picture of faraway lands trod by mystical archetypes and their feline companions. This deck is a perfect tool for dreamers and idealists, and is a great choice for divining the nature of human imagination. If you would like your own copy of the Cat People Tarot, you can buy it now!