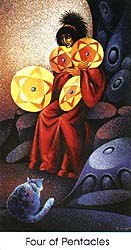 Cat People Tarot
Four of Pentacles (Power)
A woman clutches her pentacles to her body, partly in an obsessive love for them, despite their cold unresponsiveness , and partly in fear that someone, or something, will snatch them away. Each of her pentacles has a jewel at its center, symbolic of excessive material wealth.

Like a true miser, the woman loves wealth for its own sake but has no intentions of spending any of it, even on herself. She wears a loose, tatty drape, her hair is messy and she wears none of the jewelry so beloved by the people of the Outer Regions. She has no desire for any creature comforts either for herself or for others. Her heart is empty of all feeling toward any unfortunate person or animal. She has not intention of sharing a few scraps of food - or even a little affection - with the stray cat that crouches warily but hopefully in the foreground.

The Cat People Tarot paints a picture of faraway lands trod by mystical archetypes and their feline companions. This deck is a perfect tool for dreamers and idealists, and is a great choice for divining the nature of human imagination. If you would like your own copy of the Cat People Tarot, you can buy it now!