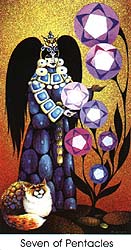 Cat People Tarot
Seven of Pentacles (Assessment)
A woman dress up in elaborate ceremonial costume celebrates the results of her hard labors, a glorious flowering plant. The flowers are in graduated sizes to symbolize the growth from small to large. The stars tilt to suggest the movement as growth progresses. The plant's leaves point upward in hope and its roots are firmly anchored in the ground. The opulence of the woman's dress shows her success. Her substantial, stocky build set off her jewelry, as she can wear large, massive pieces without being overwhelmed. She accompanied by an appropriately smug fat cat.

The Cat People Tarot paints a picture of faraway lands trod by mystical archetypes and their feline companions. This deck is a perfect tool for dreamers and idealists, and is a great choice for divining the nature of human imagination. If you would like your own copy of the Cat People Tarot, you can buy it now!