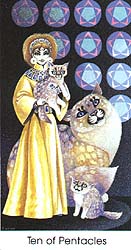 Cat People Tarot
Ten of Pentacles (Wealth)
Cats have long been associated with home and hearth, both as warm cozy pets and as guardians against vermin. Representing family is a huge, fat cat proud of her kittens, which she allows a woman to cuddle. The woman's jeweled tiara shows her position as a queen of the house. The pentacles are set like stained glass into a wall in a stable position, symbolizing the endurance of home and family in the face of social, political and economic change.

The Cat People Tarot paints a picture of faraway lands trod by mystical archetypes and their feline companions. This deck is a perfect tool for dreamers and idealists, and is a great choice for divining the nature of human imagination. If you would like your own copy of the Cat People Tarot, you can buy it now!