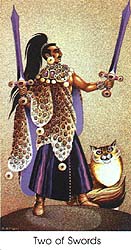 Cat People Tarot
Two of Swords (Peace)
A man hefts a sword in each hand to test it balance and craftsmanship; he stands in an attitude of firmness and confidence. His fat cat gazes up at him with affection.

The Cat People Tarot paints a picture of faraway lands trod by mystical archetypes and their feline companions. This deck is a perfect tool for dreamers and idealists, and is a great choice for divining the nature of human imagination. If you would like your own copy of the Cat People Tarot, you can buy it now!