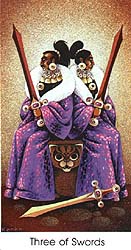 Cat People Tarot
Three of Swords (Sorrow)
Two people, formerly harmonious and friendly, ad indicated by their identical dress and jewelry, are now at odd with one another. They sit back to back, outwardly calm and civilized but with swords drawn and ready, each too proud to admit his or her mistakes or to make any concessions to the other. The cat head betrays the feelings and attitudes of the two people for all to see.

The Cat People Tarot paints a picture of faraway lands trod by mystical archetypes and their feline companions. This deck is a perfect tool for dreamers and idealists, and is a great choice for divining the nature of human imagination. If you would like your own copy of the Cat People Tarot, you can buy it now!