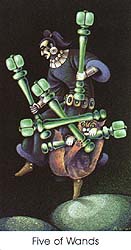 Cat People Tarot
Five of Wands (Strife)
Each wand represents a goal or desire that can be satisfied only if the entire structure of wands is sound. However, various obstacles and conflicts have weakened it beyond repair, and the wands tumble around the man and cat.

The Cat People Tarot paints a picture of faraway lands trod by mystical archetypes and their feline companions. This deck is a perfect tool for dreamers and idealists, and is a great choice for divining the nature of human imagination. If you would like your own copy of the Cat People Tarot, you can buy it now!