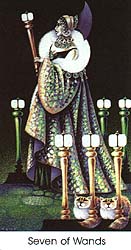 Cat People Tarot
Seven of Wands (Valor)
Success is seen in the proud, regal and confident attitude of the woman in the seven wands. The wands serve as lighting in the darkness. The wand in her hand is a beacon illuminating the future. The cats don't care about the future since they are happy with there here and now.

The Cat People Tarot paints a picture of faraway lands trod by mystical archetypes and their feline companions. This deck is a perfect tool for dreamers and idealists, and is a great choice for divining the nature of human imagination. If you would like your own copy of the Cat People Tarot, you can buy it now!