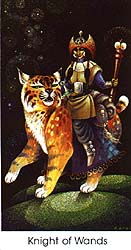 Cat People Tarot
Knight of Wands
The Knight of Wands is a traveler who keeps moving without putting down roots. He travels light, unburdened by unnecessary possessions; his worldly belongings are packed in a bedroll behind him. His wand is both a club-like weapon and a light for guidance. Bobcats are great travelers. Male bobcats often have a range of 35 to 100 miles or more and may complete a tour of their territory in two weeks or even several months before they return to their homebase. Females also travel widely, but are as not far-ranging as the males.

The Knight's bobcat pauses momentarily on the journey; he sniffs the air for any scents and the information that these scents will convey to him. Each ear faces a different direction so that sounds can also be picked up. The bobcats' keen vision is not apt to overlook anything visible, no matter how small or how far away. The cat's mouth is slightly open in the gesture many animals use in order to savor smells more thoroughly.

The Cat People Tarot paints a picture of faraway lands trod by mystical archetypes and their feline companions. This deck is a perfect tool for dreamers and idealists, and is a great choice for divining the nature of human imagination. If you would like your own copy of the Cat People Tarot, you can buy it now!