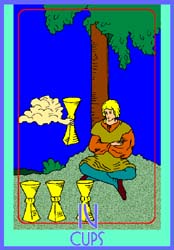 Colman Smith Tarot
Four of Cups (Luxury)
A young man is seated under a tree and contemplates three cups set on the grass before him; an arm issuing from a cloud offers him another cup. His expression notwithstanding is one of discontent with his environment.

The Colman Smith Tarot is a modern reinvention of the classic Rider Waite deck, infusing the original line drawings by Pamela Colman Smith with colors drawn from the psychedelic digital age.