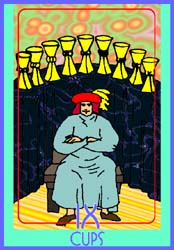 Colman Smith Tarot
Nine of Cups (Happiness)
A goodly personage has feasted to his heart's content, and abundant refreshment of wine is on the arched counter behind him, seeming to indicate that the future is also assured. The picture offers the material side only, but there are other aspects.

The Colman Smith Tarot is a modern reinvention of the classic Rider Waite deck, infusing the original line drawings by Pamela Colman Smith with colors drawn from the psychedelic digital age.