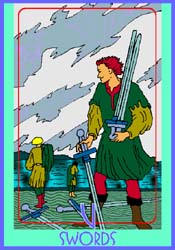 Colman Smith Tarot
Five of Swords (Defeat)
A disdainful man looks after two retreating and dejected figures. Their swords lie upon the ground. He carries two others on his left shoulder, and a third sword is in his right hand, point to earth. He is the master in possession of the field.

The Colman Smith Tarot is a modern reinvention of the classic Rider Waite deck, infusing the original line drawings by Pamela Colman Smith with colors drawn from the psychedelic digital age.