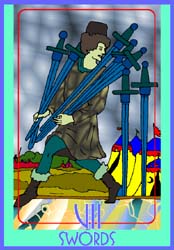 Colman Smith Tarot
Seven of Swords (Futility)
A man in the act of carrying away five swords rapidly; the two others of the card remain stuck in the ground. A camp is close at hand.

The Colman Smith Tarot is a modern reinvention of the classic Rider Waite deck, infusing the original line drawings by Pamela Colman Smith with colors drawn from the psychedelic digital age.