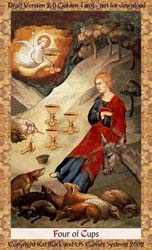 Golden Tarot
Four of Cups (Luxury)
A boy sits sulkily with his arms crossed as an angel offers him a cup of wine. Another three cups sit on the ground beside him, but he shows no interest in any of them. A flock of sheep sleep at his feet, and a dog looks warily up at the angel. A donkey stands stubbornly nearby.

The Golden Tarot is a modern celebration of late medieval artwork. This deck is the choice of scholars, for it evokes images of elegance amid barbarism, and the light of virtue in dark times. If you would like your own copy of the Golden Tarot, you can buy it now!