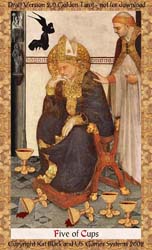 Golden Tarot
Five of Cups (Disappointment)
A Pope sits on a chair despondently resting his chin on his hand. At his feet are five cups, two of which have fallen over. A priest tries to comfort the Pope, and a black angel floats mournfully in front of him. There is a column with a carving of God admonishing Eve as Adam sleeps after "eating the apple".

The Golden Tarot is a modern celebration of late medieval artwork. This deck is the choice of scholars, for it evokes images of elegance amid barbarism, and the light of virtue in dark times. If you would like your own copy of the Golden Tarot, you can buy it now!