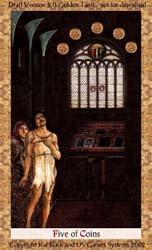 Golden Tarot
Five of Coins (Worry)
A destitute couple stand in a dark church interior. They hold hands, and he looks longingly up at five coins. Pews with open books can be seen under a stained glass window.

The Golden Tarot is a modern celebration of late medieval artwork. This deck is the choice of scholars, for it evokes images of elegance amid barbarism, and the light of virtue in dark times. If you would like your own copy of the Golden Tarot, you can buy it now!