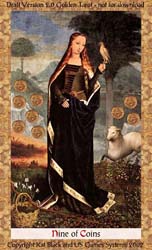 Golden Tarot
Nine of Coins (Gain)
A finely-robed woman stands in a lush field holding a hooded falcon. She has a basket of grapes, and a fat lamb frolics behind her.

The Golden Tarot is a modern celebration of late medieval artwork. This deck is the choice of scholars, for it evokes images of elegance amid barbarism, and the light of virtue in dark times. If you would like your own copy of the Golden Tarot, you can buy it now!