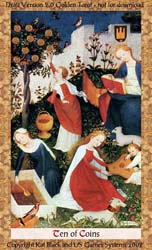 Golden Tarot
Ten of Coins (Wealth)
Serene-looking people relax in a beautiful walled garden. There are many birds, a squirrel and two white dogs. One woman reaches to pluck coins from a tree. Another reads, and one plays with a baby on a musical instrument. The fourth woman uses a ladle to scoop water from a trough. A shield emblazoned with a castle hangs on the wall.

The Golden Tarot is a modern celebration of late medieval artwork. This deck is the choice of scholars, for it evokes images of elegance amid barbarism, and the light of virtue in dark times. If you would like your own copy of the Golden Tarot, you can buy it now!