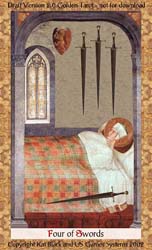 Golden Tarot
Four of Swords (Truce)
A haloed saint lies asleep in a bed placed in a church alcove. Three swords hang on the wall beside him and one lays at his bedside, as though ready if required. There is a stained glass window and a red shield emblazoned with a gold lion.

The Golden Tarot is a modern celebration of late medieval artwork. This deck is the choice of scholars, for it evokes images of elegance amid barbarism, and the light of virtue in dark times. If you would like your own copy of the Golden Tarot, you can buy it now!