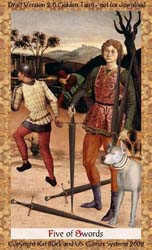 Golden Tarot
Five of Swords (Defeat)
A man stands holding three swords. Two more lie at his feet having been discarded by fleeing opponents. He looks saddened, as though it was a hollow victory. At his side stands a large white attack dog.

The Golden Tarot is a modern celebration of late medieval artwork. This deck is the choice of scholars, for it evokes images of elegance amid barbarism, and the light of virtue in dark times. If you would like your own copy of the Golden Tarot, you can buy it now!