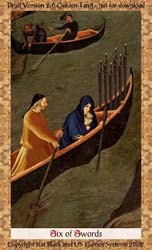 Golden Tarot
Six of Swords (Science)
A man punts a boat in a green river. A woman sits in the boat protectively nursing a baby inside her cloak. Six swords stand erect at the bow of the boat. In the background two men fish with a net from another boat.

The Golden Tarot is a modern celebration of late medieval artwork. This deck is the choice of scholars, for it evokes images of elegance amid barbarism, and the light of virtue in dark times. If you would like your own copy of the Golden Tarot, you can buy it now!