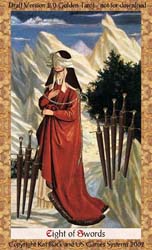 Golden Tarot
Eight of Swords (Interference)
A woman stands in a harsh, icy landscape. She is blindfolded and bound, although so loosely that she could break free if she struggled. Eight swords are impaled in the ice and a stream flows swiftly past her.

The Golden Tarot is a modern celebration of late medieval artwork. This deck is the choice of scholars, for it evokes images of elegance amid barbarism, and the light of virtue in dark times. If you would like your own copy of the Golden Tarot, you can buy it now!