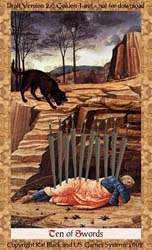 Golden Tarot
Ten of Swords (Ruin)
A man lies dead at the bottom of a stone staircase, impaled by ten swords. The sky is dark and stormy and a large black dog snarls down at him.

The Golden Tarot is a modern celebration of late medieval artwork. This deck is the choice of scholars, for it evokes images of elegance amid barbarism, and the light of virtue in dark times. If you would like your own copy of the Golden Tarot, you can buy it now!