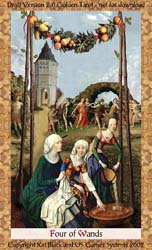 Golden Tarot
Four of Wands (Completion)
Three women prepare a bath beneath an arch formed by four wands hung with a garland of fruit. In the distance is a natural stone arch and a castle foregate with a pointed turret. A group of women dance merrily in a circle.

The Golden Tarot is a modern celebration of late medieval artwork. This deck is the choice of scholars, for it evokes images of elegance amid barbarism, and the light of virtue in dark times. If you would like your own copy of the Golden Tarot, you can buy it now!