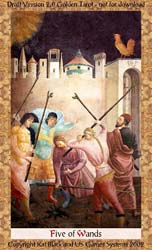 Golden Tarot
Five of Wands (Strife)
In front of a city, five young men battle with wands. It doesn't look too serious, however - more of a playful, boisterous romp than a real fight. A cock crows from high on the city wall and a gilt sun radiates crowns in a dark purple sky.

The Golden Tarot is a modern celebration of late medieval artwork. This deck is the choice of scholars, for it evokes images of elegance amid barbarism, and the light of virtue in dark times. If you would like your own copy of the Golden Tarot, you can buy it now!