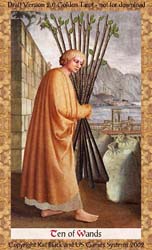 Golden Tarot
Ten of Wands (Oppression)
A downcast man struggles with a burden of ten wands. Nearby are three heavy sacks as though waiting to add to his burden. A high wall is behind him, but ahead is a beautiful city with a harbour surrounded by protective mountains.

The Golden Tarot is a modern celebration of late medieval artwork. This deck is the choice of scholars, for it evokes images of elegance amid barbarism, and the light of virtue in dark times. If you would like your own copy of the Golden Tarot, you can buy it now!