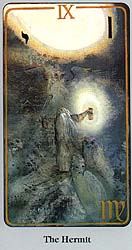 Haindl Tarot
The Hermit
The Symbols

Yod, hand; Is, I, ice; Virgo.

The Image

A man stands on a mountiantop, surrounded by birds symbolizing the spirit. The gnomes, whose faces appear in the rock, symbolize the elemental spirit forces alive in nature. The lantern is human knowledge and teachings passed from generation to generation. An eye inside a triangle forms a traditional image of God.
The Haindl Tarot weaves a tapestry of haunting beauty from the traditions of Native America, the Holy Grail, the I Ching, Kabbalah and the Norse Runes, and is the deck of choice for mystics and those seeking enlightenment. If you would like your own copy of the Haindl Tarot, you can buy it now!