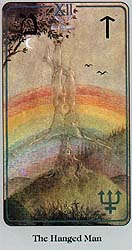 Haindl Tarot
The Hanged Man
The Symbols

Mem, seas; Tyr or Tewaz, T, a war or god or god of law; Neptune.

The Image

The Hanged Man is Odin of Scandinavian myth. The rainbow implies water; its colors also correspond on the Hanged Man's body to the chakras, yogic points of energy in the human physique. The Hanged Man's hair seems to merge into the ground like the roots of a tree. On one side shines a crescent moon, symbol of the High Priestess, goddess of mystery. On the other appear Odin's twin ravens, Hugin and Munin, thought and memory. Ravens signify death and thus bringing information from the "other world."
The Haindl Tarot weaves a tapestry of haunting beauty from the traditions of Native America, the Holy Grail, the I Ching, Kabbalah and the Norse Runes, and is the deck of choice for mystics and those seeking enlightenment. If you would like your own copy of the Haindl Tarot, you can buy it now!