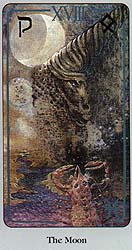 Haindl Tarot
The Moon
The Symbols

Kaph, back of the head; Othal, O, prosperity; Pisces.

The Image

The landscape represents peace, while the lobster represents fear. The unicorn, which replaces the traditional dog and wolf, is the imagination. The entire image is dreamy and surrealistic, a land of myths, illusions and wonders, the path of the imagination which can lead to perfect knowledge.
The Haindl Tarot weaves a tapestry of haunting beauty from the traditions of Native America, the Holy Grail, the I Ching, Kabbalah and the Norse Runes, and is the deck of choice for mystics and those seeking enlightenment. If you would like your own copy of the Haindl Tarot, you can buy it now!