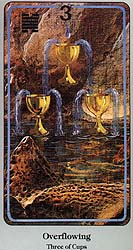 Haindl Tarot
Three of Cups (Overflowing)
I Ching Hexagram 28 Preponderance of the Great. Three cups are in an upward triangle symbolic of fire. The cave indicated that the card deals with inner experience. Rocks at the bottom hint of danger; however, the cups overflow with joy.

The Haindl Tarot weaves a tapestry of haunting beauty from the traditions of Native America, the Holy Grail, the I Ching, Kabbalah and the Norse Runes, and is the deck of choice for mystics and those seeking enlightenment. If you would like your own copy of the Haindl Tarot, you can buy it now!